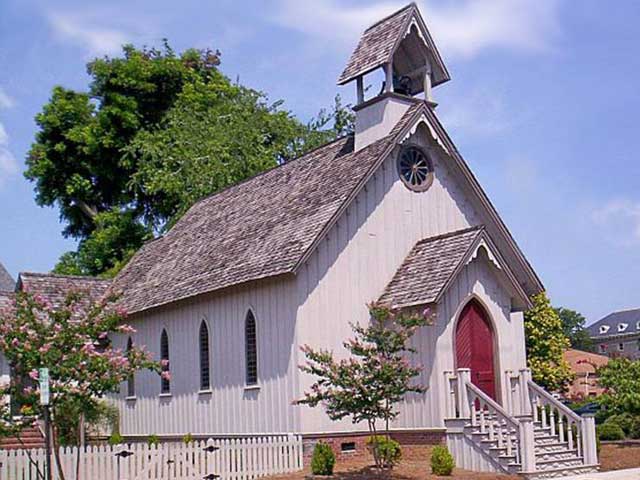 St. Philip's began as a mission outreach of Christ Episcopal Church to serve the local African American community in the late 19th century. The parish register documents that the "cornerstone was laid by the rector of the parish, L.L. Williams, on Easter Tuesday afternoon 4th May, 1893."
The church was built by John James, an African American contractor and his helper. Mr. James later joined the church. The bell was given by The Rev. L.L. Williams and the vestry of St. Philip's Church, Atlanta, Georgia. In August 1893 it was placed in the belfry made for it. The first service was held Tuesday evening, August 1, 1893, although the church was not quite finished. The church was consecrated  April  24,  1898  by  The
Rt. Rev. Alfred Augustin Watson, Bishop of the Diocese of East Carolina. The Rev. S.N. Griffith of St. John the Evangelist of Edenton was the last priest-in-charge and relinquished his charge of the parish in 1951. Lay services were discontinued in 1952. In 1963 or somewhat later the church was deconsecrated and used as a soup kitchen and a food bank.
In the 1960s members of Christ Church and St. Philip's were united under one roof. Through the efforts of many members of the Christ Church family and others, the St. Philip's building was purchased and moved in 2001 to its present location across the street from Christ Church. Renovations have occurred to preserve St. Philip's and to fully restore the structure to its original state. A new addition was also added to provide a kitchen, bathroom and a gathering space.
St. Philip's was re-consecrated in 2003 by The Rt. Rev. Clifton Daniel III. St. Philip's has been envisioned as a place for supporting many outreach needs. In its central downtown location the revitalized church is an appropriate facility for youth and senior citizens' activities. It is also used as a gathering place for community organizations, a chapel for Christ Church, small weddings, informal meetings, educational programs and services.
The church is important not only because of its historic African American origin, but also because of its elegant but simplistic architectural style. The building is a classic example of the frame Carpenter Gothic church. Its exterior board-and-batten construction follows a distinctive type of building that was popular for small congregations during the late nineteenth century. Of particular interest is the manner in which the battens are joined under the eaves to form a continuous band of miniature Gothic arches that echo the gable ornaments at the entrance, belfry, and main gables, the double-leaf door, and the vibrant colored glass in the central rose window and Queen Anne arched windows. The interior is an eloquent example of the simple beauty of the Gothic Revival style. The ceiling, supported by scissor trusses, is covered with diagonally laid beaded tongue-and-groove boards. The walls, on the other hand, are stucco and scored to simulate ashlar stone walls, presenting a surprisingly sturdy appearance for so diminutive a building. The chancel area is elegantly yet simply finished, having simple moldings, a tall wainscot, and a molded altar rail.
St. Philip's has been entered in the National Register of Historical Places.
St. Philip's, Elizabeth City was first admitted to the Diocese in 1906.
Source of information: Compiled from various proprietary material of Christ Church.